With our new Blade model, we've set out to help you iron out those small differences against the clock that, in certain disciplines, make the difference between success and defeat.
The ultimate exponent of the G3 design philosophy, its chassis has been conceived to push the limits of sportiness and performance. With a much lower aerodynamic/stiffness ratio than previous models, the new Blade is a faster, stiffer bike that transmits the power of your pedaling better.
Hydraulic disc brakes, the aerodynamic integration of all its components and an exceptional assembly
components and an exceptional assembly make up a bike born to defy the laws of space-time.
* Suggested retail price.
** MMR reserves the right, at any time, to update or modify the information on this website, including bike specifications, features, prices and colors without prior notice.
Model 00
Frame
Blade- G3 Carbon Concept Frame. Intermediate modulus carbon fiber. Monocoque. TA 12mm. Internal Cable Routing. Flat Mount. Advanced Aerodinamics. Headtube 1.5
Fork
Blade- G3 Carbon Concept Lite. TA 12mm
Headset
MMR Blade Aero
Shifter
Shimano Ultegra 8050 DI2 11v
Derailleur
Shimano Ultegra 8050 DI2
Buttons
Shimano Dura Ace Di2 ST-9180
Brakes
Shimano Dura Ace ST9180 140/140
Crankset
Rotor Aldhu 39/53
Cassette
Shimano Ultegra R8000 11-30
Chain
Shimano HG-601
Wheels
DT Swiss Dicut PRC-1400 Carbon 50 12-12
Tyres
Hutchinson Fusion-5 25c
Stem
MMR Blade Aero
Handlebar
MMR Blade Aero Carbon
Seatpost
MMR Blade Aero Carbon
Saddle
Selle Italia SLR Boost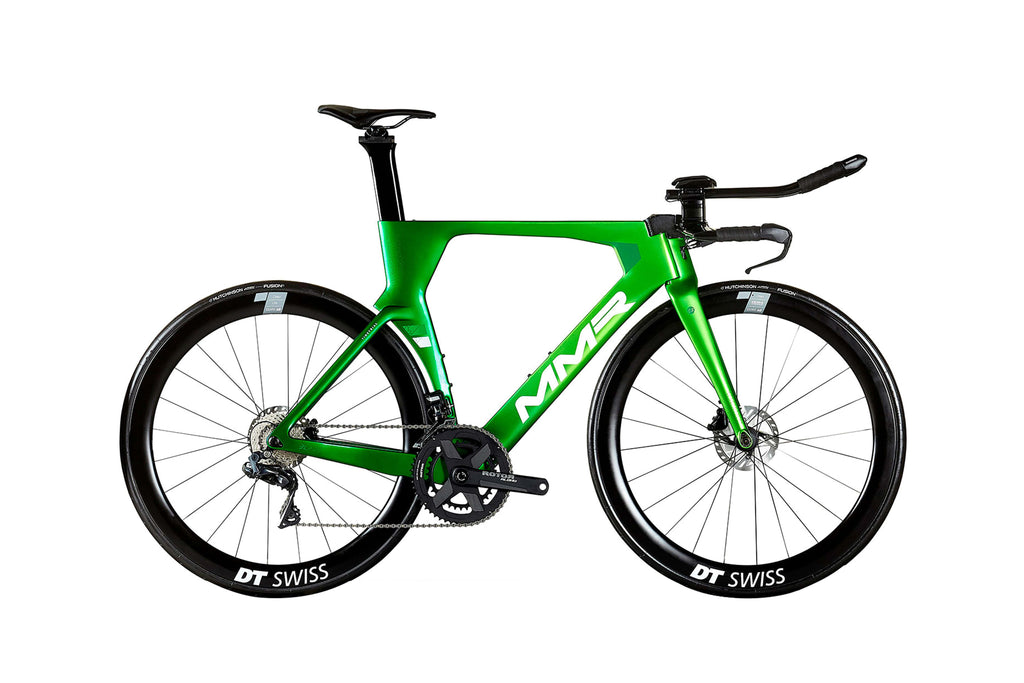 Compare
Geometry and sizes
G3 Racing Geometries
Thanks to our extensive experience in top level competition, we have developed the G3 geometry where the rider can enjoy an aggressive, incredibly fast and agile position, but without neglecting a very important factor for our engineers, comfort.

One of the reasons we have designed the bikes with feedback from the world's best XCO racers is to harness the power in every pedal stroke.
| | XS | S | M | L | | |
| --- | --- | --- | --- | --- | --- | --- |
| Inseam (cm) | <77 | 76-83 | 82-87 | >86 | | |
| Height (cm) | <160 | 159-174 | 173-182 | >181 | | |
| L Wheelbase (A) | 951 | 970 | 991 | 1010 | | |
| L Top Tube (B) | 508 | 534 | 553 | 570 | | |
| L Virtual Tube (C) | 501 | 534 | 553 | 570 | | |
| L Head Tube (D) | 61/89 | 82/111 | 99/130 | 118/147 | | |
| L CENTRE/CENTRE (E) | - | - | - | - | | |
| L SEAT/TUBE (F) | 449 | 540 | 557 | 571 | | |
| L CHAINSTAY (G) | 400 | 400 | 400 | 400 | | |
| L TRAIL (H) | 370/45 | 370/45 | 370/45 | 370/45 | | |
| BB DROP (I) | 75 | 75 | 75 | 75 | | |
| SS HEAD ANGLE (J) | 71º | 73º | 73º | 73º | | |
| SEAT ANGLE (K) | 75º | 75º | 75º | 75º | | |
| REACH (L) | 376 | 395 | 414 | 431 | | |
| STACK (M) | 495 | 521 | 538 | 556 | | |
| TRAIL (N) | 70 | 60 | 60 | 60 | | |